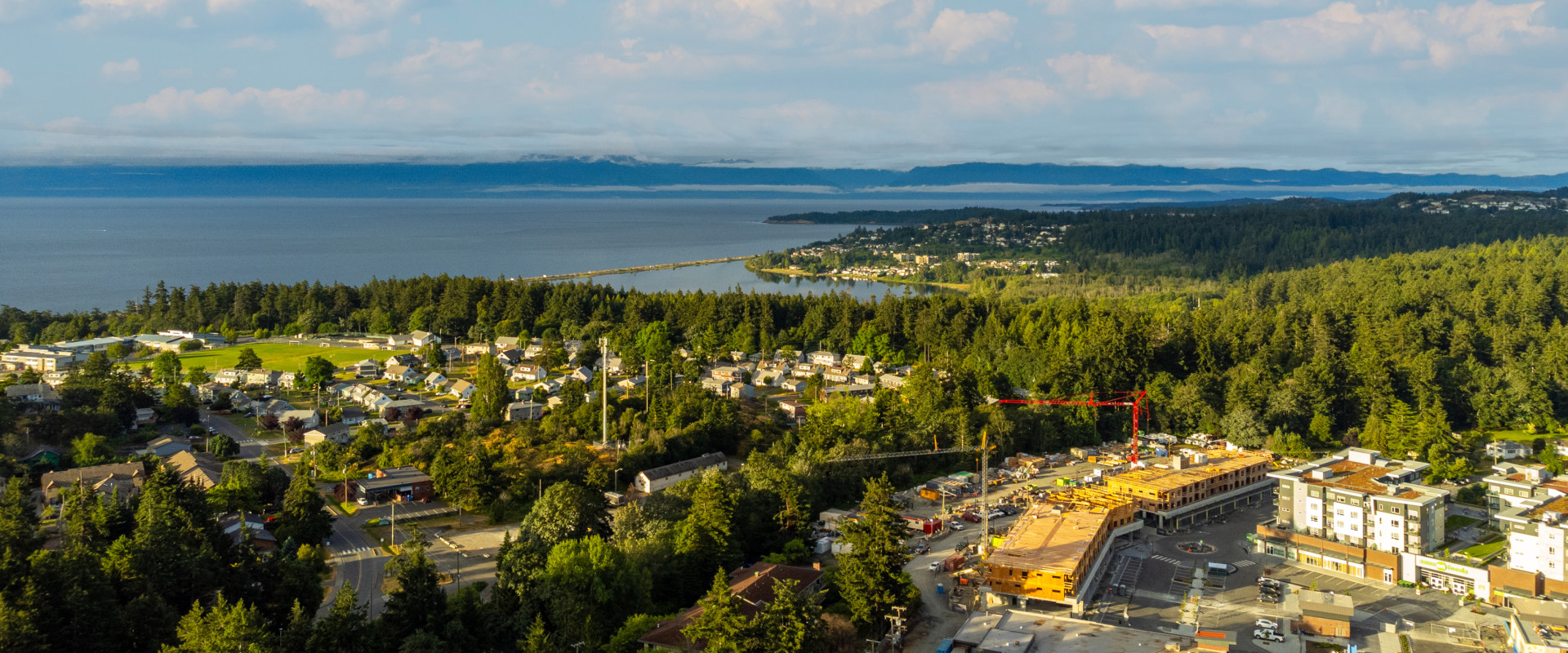 LAND DEVELOPMENT OPPORTUNITY IN VICTORIA BC
Currently ZONED for up to 400 RESIDENTIAL UNITS and 100,000 Sq. Ft. of COMMERCIAL with the municipality encouraging a higher density rate than that!
Owner will consider BUILD to SUIT for MAJOR COMMERCE client, as a JOINT VENTURE, or as a LONG-TERM LAND LEASE.
Excellent land opportunity located in the center of one of the fastest growing areas of British Columbia!
This rare, 4.5 acres vacant land, is surround by national store chains, mid rise residential buildings and located across the street from the Westshore's public transportation hub.
The Provincial Government recently announced a program (coming soon) for the rapid expansion of commerce and residential developments in the transportation corridors in the Greater Victoria Area.
This amazing property is comprised of FOUR SEPARATE TITLES that can be purchased individually, but it is preferred to be bought in it's entirety.
REAL ESTATE DEVELOPMENT BROCHURE
SITE AREA
339 Wale Road
Lot 1
Plan EPP72685
7943.8 m2
1840 Island Highway
Lot 1
Plan 6051
6353.8 m2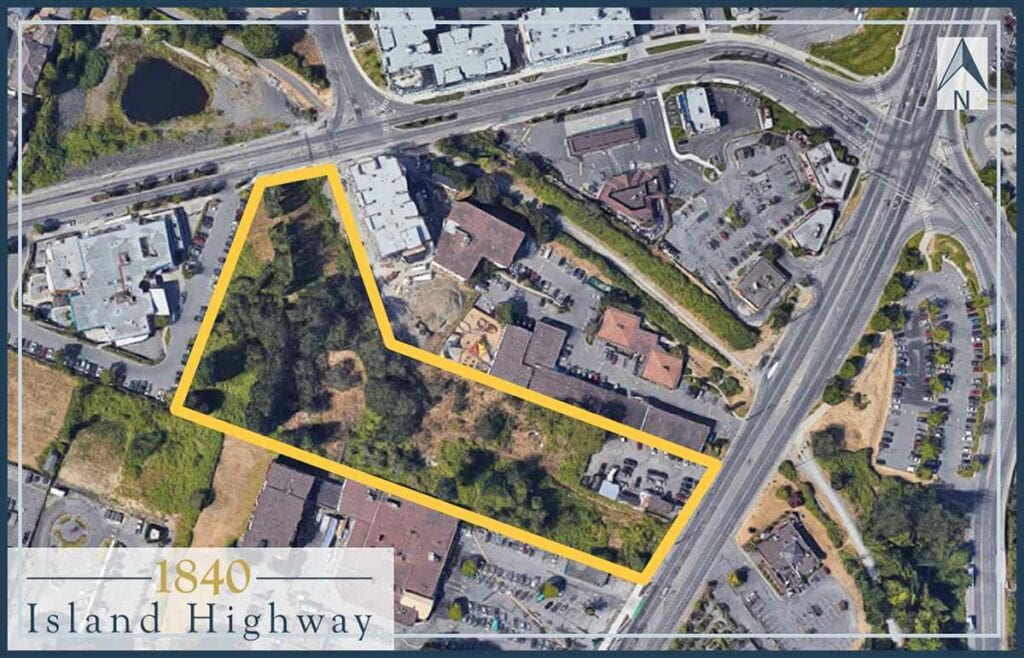 1836 Island Highway
Lot 2
Plan 2857 R/W
1491.9 m2
1844 Island Highway
Lot 3
Plan 2857 R/W
1026.1 m2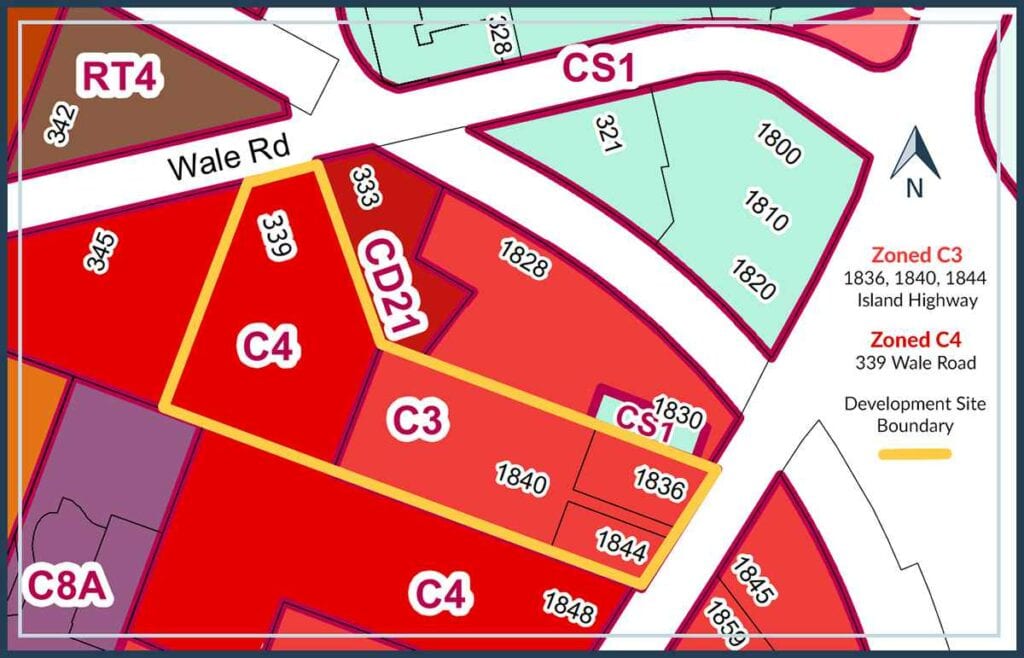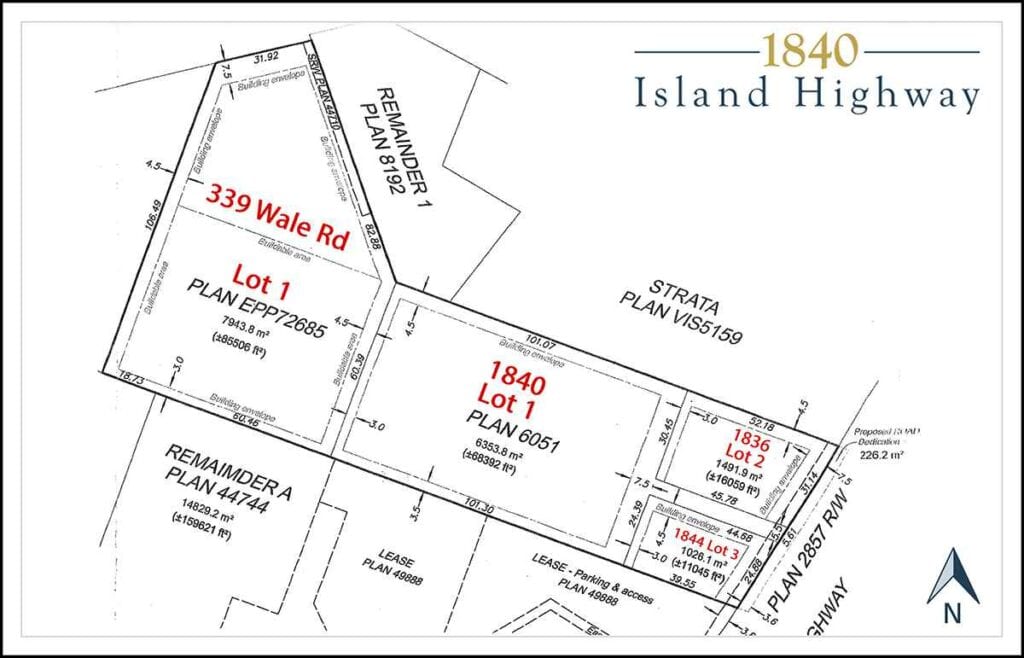 NEIGHBOURHOOD & AMENITIES
Colwood is a municipality within Greater Victoria which has a great deal to offer and has become increasingly attractive to families, local businesses, and construction projects to facilitate growth and densification.
From this site, you can walk to every level of service, recreational facilities, hockey rinks, curling, gyms, and shopping.
Stunning natural west coast beaches and the Esquimalt Lagoon & Migratory Bird Sanctuary are close by for nature enthusiasts. Internationally renowned Royal Roads University with the Hatley Castle and stunning gardens, Fort Rodd Hill and Fisgard Lighthouse, and Canada's top-rated private golf clubs -The Royal Colwood Golf Course, are all within walking distance.
The prime location will afford excellent 4th floor views of the Golf Course, Sooke Hills, Juan de Fuca, Mount Baker and Greater Victoria.
The location, the environment, the views, and the range of potential development options combine to make this land development opportunity Victoria BC an exceptional property.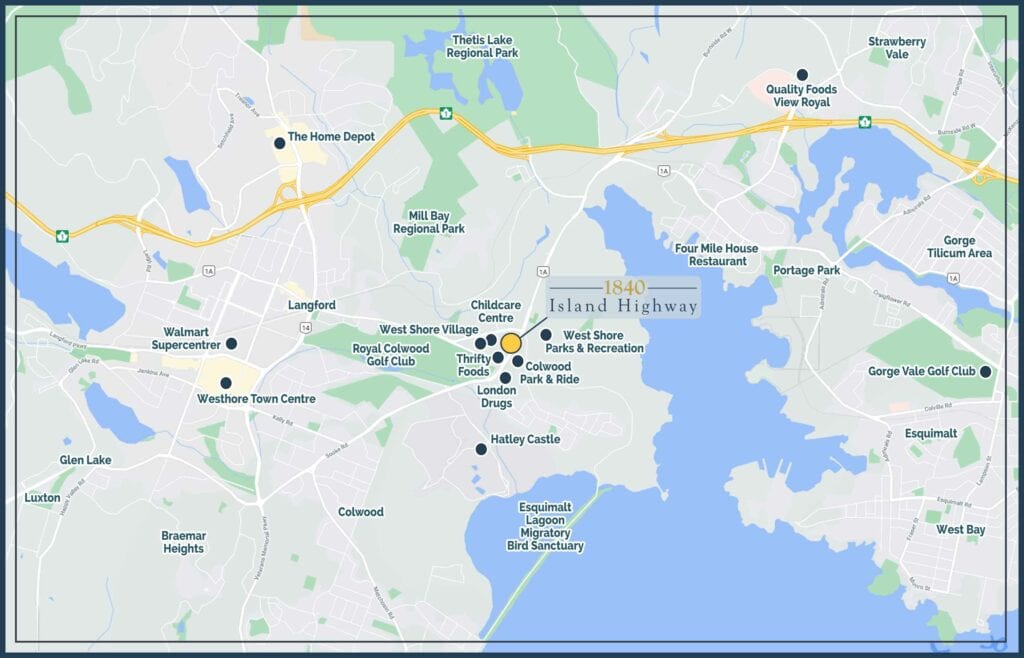 SERVICES
Colwood Park and Ride
Children of the Island Childcare Centre
DTI computer
First Choice Hair Salon
JDF Seniors' Centre
London Drugs
Midas Auto Repair Shop
Money Mart
Urban Smiles Colwood
West Shore Village (Seniors Centre)
FOOD & GROCERIES
4 Mile Liquor Store
Asian Noodle House
Bitez Sandwich Bar
Denny's
House of Nutrition
Pilgrim Coffee Shop
Thrifty Foods
Tim Hortons
Wendy's
RECREATION
Juan de Fuca Velodrome
The Q Centre
Royal Colwood Golf Club
WildPlay Victoria
West Shore Recreation Centre
BANKS